One of the most important (and beloved) features on BrainPOP Jr. is Annie's Notebook.
You'll see Annie's Notebook to the right of every movie in BrainPOP Jr. It looks like a simple teaching mechanic but it has several benefits.
It displays the questions Annie asks in the movie
Not only displays them, but at important moments in the movie. Use these questions to prompt discussion or gauge understanding.
Print questions in advance to scaffold learning
Hit the print button underneath the Notebook to print a PDF file of all the questions from the movie. You can use this as a summation/Q&A sheet for pupils, or just as an aide memoir for your lesson.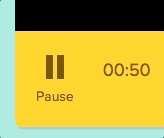 Don't forget to perfect the pause!
The 'Pause' button flashes red whenever Annie starts to write in her notebook. This is an indicator to you, the teacher, that this could be a great moment to stop and reflect.
But of course one of the main reasons Annie has a notebook is to promote and value the work of note taking to your students.
They see Annie writing her questions on a standard issue lined notepad - something all your pupils will recognise - in a legible hand written font.
If Annie's doing it, everyone can try to do it.
If you regularly draw children's attention to Annie's notepad you are encouraging them to join Annie in taking notes, recording ideas, and perhaps most importantly, not being afraid to ask questions.