So I made my first video meme today. And learned about the circulatory system while doing it.
By any standards it was about the worst meme ever made (check it out below), but I had so many moments of learning during the process that I'm kind of proud of it.
Welcome to 'Creative Coding' on BrainPOP.com!
Developed with our partner Vidcode, Creative Coding invites students to show what they know about a topic through a variety of coding projects.
It enables students with little or no coding experience to succeed, while those with coding background can take their work to more sophisticated levels.
There are currently 4 different coding projects across 20 different topics available for free on BrainPOP - Meme, Doodle Augmented Reality, Stop Motion Animation, and Newscast.
Each project takes the learner on a journey through coding, but in the context of a curriculum subject.
There will be around 15-20 steps in the instruction panel in the project, and each line of code you add/edit will be reflected in the 'live' view. Take a look at the interface in this walk-through to see what I mean.
In Meme projects, students use JavaScript to embellish a short video with graphics and text. Students will discover that JavaScript is made up of objects that have properties and methods. They will:
Program in JavaScript
Apply knowledge of JavaScript objects
Customise objects by changing their properties
Position their memes using the coordinate plane (x-y grid)
Apply their knowledge of a BrainPOP topic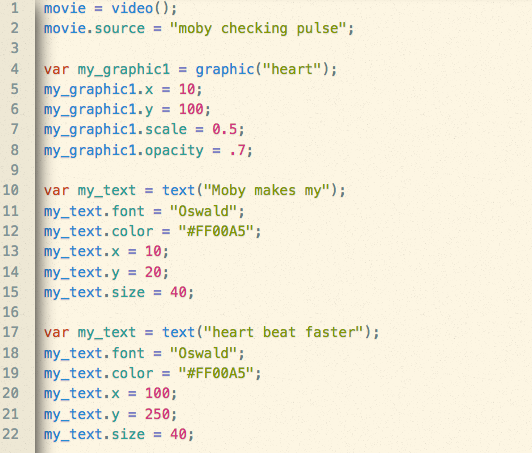 In my video meme I picked the video clip 'moby checking pulse' from the movie 'Circulatory systems' (rows 1-2).
Then I overlaid a 'heart' graphic (rows 4-8), followed by the words 'Moby makes my' (rows 10-15) and 'heart beat faster' (rows 17-22).
I positioned each element, changed colours/sizes, and made the heart a little transparent.
All through a coding language of which I had 0% knowledge.
I tried different things, and failed sometimes, but fixed my mistakes which felt great. There was some guess work on how to position things and how colours and transparencies would look.
But I never felt overwhelmed, nor less than curious about each step.
And I made something with code (go me!) and saved it to my projects folder. So as I get better at coding I can come back and improve my meme.
The value of aligning coding with content learning cannot be underestimated. As a teacher you can assess student subject knowledge, encourage creativity, and support student choice.
Before (and during) coding sessions, ask your students to conduct research using the various materials on BrainPOP and elsewhere, create a storyboard (in Make a Map perhaps?), and work collaboratively with their friends.
What are you waiting for? You could make the next hit meme!